COLLAGEN INDUCTION THERAPY
Percutaneous collagen induction" (PCI) or "collagen induction therapy" (CIT) is a skin treatment in which the outer layers of the skin, epidermis and dermis, are punctured in a minimally invasive way, thus activating the body's own repair process and the renewal of damaged skin tissue by increasing collagen production. With CIT, wound healing mechanisms are activated without damaging the epidermis; the puncture channels close again quickly.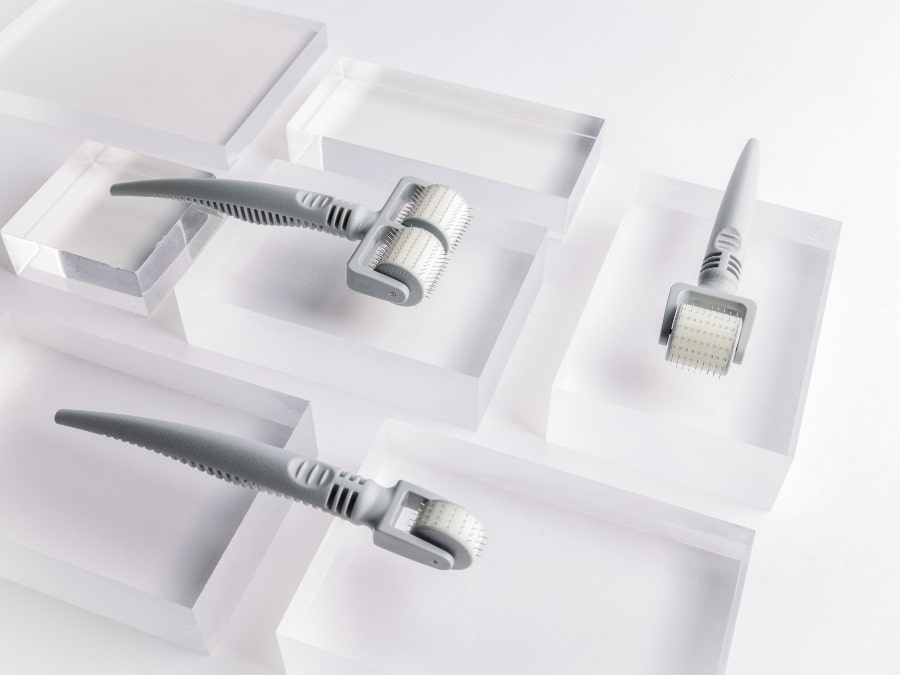 Epidermal membrans after a Dermaroller treatment
Scanning electron microscopic images of the epidermal membrans treated with the Dermarollers directly (A) or 2h (B) after Dermaroller Treatment. Source: European Journal of Pharmaceutical science 2009
150 µm
500 µm
1500 µm
(A)
(B)
In vivo visualization of microneedle conduits in human skin using laser scanning microscopy
Performed with Dermastamp by Charité Hospital, University of Berlin, 2009
Surface
20 µm deep
Percutaneous collagen induction therapy: An alternative treatment for scars, wrinkles and skin sagging.
Authors
Aust, Matthias C. M.D.; Fernandes, Des M.D.; Kolokythas, Perikles M.D.; Kaplan, Hilton M. M.D.; Vogt, Peter M. M.D.
Research Institute
Clinic for Plastic Surgery, Hand and Reconstructive Surgery, Hannover Medical School
Source
Plastic and Reconstructive Surgery, 2008, Vol.121(4), pp.1421-1429
Summary
Extensive retrospective analysis, groundbreaking summary on micro-needling, but with non-equivalent microneedling device.
Microneedling Therapy in Atrophic Facial Scars: An Objective Assessment
Researchinstitute
Cutis Skin- and Laser-Clinic, Govt Medical College, Srinagar, India
Source
Journal of Cutaneous and Aesthetic Surgery, 2009, Vol.2(1), p.26-30
Summary
Atrophic facial scars of grade 2 and 3 are reduced significantly; method is simple, safe and free of adverse effects. Device: MF8
Skin Cell Proliferation Stimulated by Microneedles
Authors
Horst Liebl, Luther C. Kloth
Researchinstitute
Department of Physical Therapy, Marquette University, P.O. Box 1881, Milwaukee, WI 53201-1881, USA
Source
Journal of the American College of Clinical Wound Specialists, March 2012, Vol.4(1), pp.2-6
Summary
Hypothesis on underlying mode of action; postulated role of MMPs confirmed by new result (El-Sheimy et al 2015).
A prospective controlled assessment of Microneedling with the Dermaroller-device
Author
Schwarz M, H Laaff
Source
Plast Reconstr Surg 127(6):146e-148e.
Summary
Outcome was measured in terms of elastin content and thickness of epidermis All treated subjects reported an improvement in hyperchromia, smoothness and skin texture. The procedure was very well tolerated. Device: MF8