XCellarisPro Deep Cleanser
Product number: VK-0011.011.01
XCellarisPro Deep Cleanser effectively removes impurities, dead skin cells and make-up from your skin, optimally preparing the skin to absorb the active ingredients in skin-care products. The anti-inflammatory action of copper tripeptide helps to gently cleanse the skin. Coco glucoside has a gentle cleansing effect and its moisturising properties prevent the skin from drying out. Aloe vera, rice extract and panthenol nourish and moisturise the skin, leaving it feeling cared for.
This makes XCellarisPro Deep Cleanser the ideal gentle cleansing product for sensitive and delicate skin.
Description & Features
Purify and Refresh with XCELLARISPRO Deep Cleanser
Experience a deep cleanse like never before with XCELLARISPRO Deep Cleanser. This gentle yet effective formula removes impurities, dead skin cells, and makeup, leaving your skin clean and prepped for the next skincare steps. Enriched with soothing Copper Tripeptide-1 and hydrating Coconut Glucoside, it cleanses without drying out the skin. Aloe Vera, Rice Extract, and Panthenol revitalize and moisturize, ensuring a pleasant and refreshed skin feel. XCELLARISPRO Deep Cleanser is your ideal partner for a gentle and thorough cleansing routine.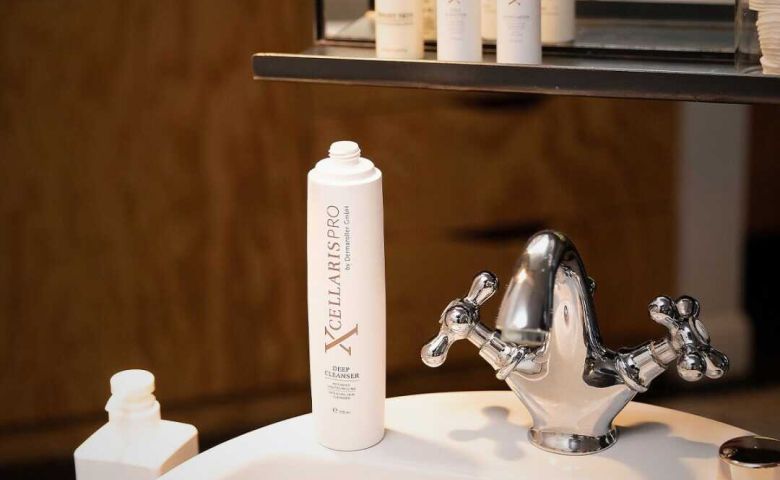 Cleanse and Revitalize with XCELLARISPRO Deep Cleanser
Discover the transformative power of XCELLARISPRO Deep Cleanser. This invigorating cleanser removes impurities, makeup, and excess oil, leaving your skin feeling refreshed and revitalized. Formulated with gentle yet effective ingredients like Coconut Glucoside and Aloe Vera, it purifies without stripping the skin's natural moisture. Enjoy the uplifting scent and experience the deep cleansing benefits of XCELLARISPRO Deep Cleanser, your essential step for a radiant and rejuvenated complexion.
Product Details
Description
Active Ingredient: Matrixyl, Tri-Copperpeptide-1 Area of Application: Face, Neck & Dekollete Category: Day Care, Make-Up Remover, Night Care Microneedling: Microneedling Product Series: XCellarisPRO Skin Need: Moisturizing, Pore Refining, Radiance & Luminosity, Strength & Tightening Skin Type: Blemished Skin, Combination Skin, Dry Skin, Enlarged Skin, Mature Skin, Normal Skin, Oily Skin, Sensitive Skin Subject: Anti-Ageing, Cleansing
Benefits
Pore-deep and gentle cleaning
Frees the skin of impurities
Thoroughly removes make-up
Prepares the skin for follow-on care products
Leaves the skin feeling fresh
Uplifting fragrance
Application
Apply a small amount of XCellarisPro Deep Cleanser to a moistened cotton wool pad or sponge and use to remove impurities and make-up from the skin. Avoid the eye area

After cleansing, rinse your face or the treated area with clean, lukewarm water. Then apply a suitable moisturiser.
Ingredients
Aqua, Glycerin, Coco-Glucoside, Sodium Cocoyl Glutamate, Polyglyceryl-10 Laurate, Butylene Glycol, Sodium Benzoate, Lactic Acid, Xanthan Gum, Limonene, Potassium Sorbate, Arginine, Panthenol, Phytic Acid, Citric Acid, Oryza Sativa (Rice) Bran Extract, Aloe Barbadensis Leaf Juice Powder, Glycine, Proline, Sorbitol, Sodium Lactate, Carbomer, Phenoxyethanol, Citrus Aurantium Dulcis (Orange) Peel Oil, Citrus Sinensis (Orange) Peel Extract, Passiflora Edulis Fruit Extract, Linalool, Bis(Tripeptide-1) Copper Acetate, Hydrolyzed Soy Protein, Citral, Sorbic Acid, Palmitoyl Oligopeptide, Palmitoyl Tetrapeptide-7.
Active Ingredients
Matrixyl®
Copper tripeptide
Coco glucoside
Rice extract
Aloe vera
Panthenol
Orange oil
Ratings & Reviews
1 reviews with and average of 5 stars.
I was skeptical about Dermaroller Skin Cleanser at first, but after a few uses I was completely convinced. The consistency is very fluid, which was un

Freda B.
View All Ratings