Product number: VK-0000.022.01
The Dermaroller Mask is a luxurious sheet mask, enriched with intensely nourishing and regenerating substances. It intensely hydrates the skin and simultaneously supports collagen production for increased elasticity. The mask consists of a skin-caressing silk mask, which is soaked with Matrixyl®, a peptide that activates the skin's repair processes, and hyaluronic acid, a substance naturally found in the body that binds moisture in the skin. After applying the moisture mask, the ingredients unfold their lasting effect within 20 minutes.
Description & Features
Intensive Moisture Boost
he Dermaroller Mask is your ultimate solution for dry and dehydrated skin. Its rich formula replenishes moisture, revitalizes the skin barrier, and promotes collagen production for improved elasticity. Experience the joy of refreshed and radiant-looking skin.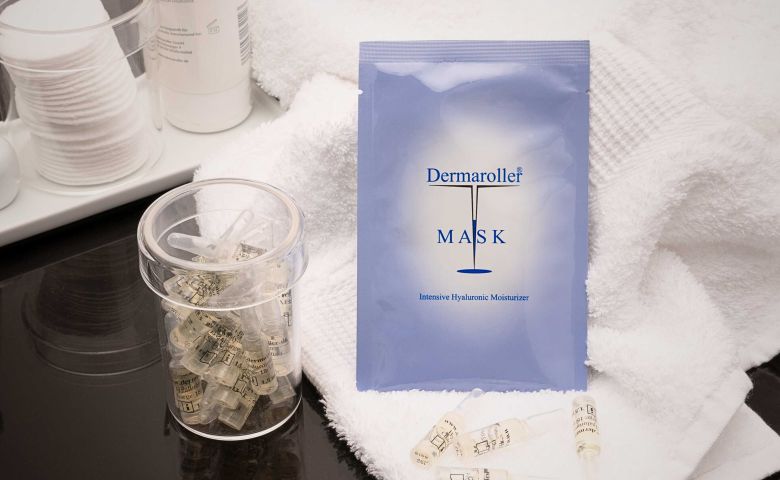 Advanced Skin Nourishment
Indulge in the luxurious Dermaroller Mask, infused with skin-loving ingredients. Matrixyl® activates skin repair processes, reducing UV damage, while Hyaluronic Acid binds moisture for optimal hydration. Feel the cooling sensation as it soothes and Vitamin E combats premature aging caused by free radicals. Treat your skin to the ultimate pampering experience.
Application
Cleanse face: Thoroughly clean the skin and remove makeup.

Prepare mask: Open the packaging, unfold the mask, and remove the blue layer.

Apply mask: Place on the cleansed face and peel off the light layer. Allow to sit for at least 20 minutes.

Massage in serum: Apply excess serum to the décolletage or hands.
Triple Quality Control Check
Product Details
Benefits
Intensive supply of moisture to the skin
Supports the regeneration process of the skin
Reduces dryness lines
Reduces redness in rashes
Silky smooth feeling on the skin
Supports the skin's own production of collagen
Individually packaged and so ideal for travel
Application
Open the packaging and unfold the mask. Remove the blue layer first. Place the mask on your cleansed face and remove the second, light layer. Leave it on for at least 20 minutes. You can spread any excess serum in the packaging over your décolleté or hands.
Ingredients
AQUA, PROPYLENE, GLYCOL, XANTHAN GUM, TOCOPHEROL, MATRIXYL (PALMITOYL PENTAPEPTIDE-3), HYALURONIC ACID, CERAMIDE-E (CETYL-PG HYDROXYETHYL PALMITAMIDE), COCONUT ACID, FRAGRANCE
Features
Our skin is exposed to and attacked by external influences such as exhaust fumes or extreme weather conditions, day by day. The skin barrier is thus weakened with time and loses its moisture. Dry skin is not only unpleasant, but can also lead to wrinkle formation or itching. The rich Dermaroller mask intensively supplies the skin with moisture. Your skin will look fresher and more radiant. The Dermaroller Mask consists of a skinfriendly silk mask, which is soaked with intensive care and regenerating substances. Matrixyl® promotes the skin's own texture and can reduce the visibility of fine wrinkles. In combination with hyaluronic acid it can help to smooth fine wrinkles and protects against the negative effects of environmental stressors, thereby weakening signs of premature ageing. Hyaluronic acid is a substance produced naturally in the body, which retains moisture in the skin. It ensures an optimal balance of moisture. The skin enjoys a pleasant cooling effect at the same time thanks to the evaporative effect of hyaluronic acid.. After applying the moisturising mask, the lasting effect of the substance starts within 20 minutes.
Ratings & Reviews
11 reviews with and average of 5 stars.
I think it is gut.

Mark T.

I have a very small face and the mask is a little big for my face. I do not like it so much when masks come on my mouth so I cut them a little. But th

Isabella F.

Super! Provides a lot of moisture and helps with my dry skin.

Jasmin H.

I have tried many masks, but this one has particularly done it to me. Compared to the masks in the drugstore, this is extremely moist. After 30min it

Julia S.

I love the instant effect of this mask. My skin looks more radiant and plump right after the first use.

Xiao M.

This mask is my weekly pampering. My skin feels so refreshed and hydrated afterward.

Leonie W.

My skin immediately felt better...

Zoe L.

The Dermaroller Intensive Mask is a game-changer in my skincare. After just a few applications, I notice the difference. My skin is firmer and feels s

Niklas P.

The best decision for my skin! Since I've been using the Dermaroller Intensive Mask, I feel like I'm really doing something good for my skin. The resu

Anja K.

After trying many products, the Dermaroller Intensive Mask really impressed me. After just a few applications, I can feel and see a significant improv

Julia B.
View All Ratings